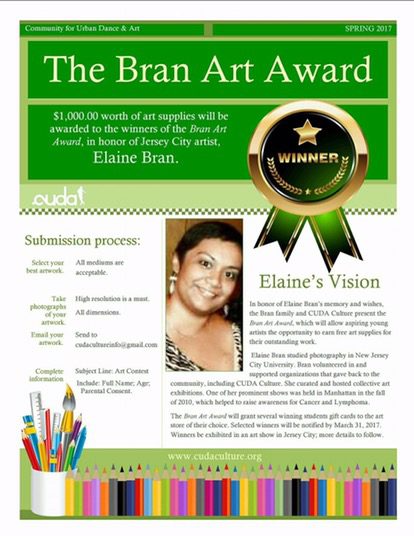 CUDA Culture and the Bran family are proud to present the Bran Art Award, in memory of our good friend and artist Elaine Bran.
Elaine was passionate about giving back to the community. She talked about how not being able to afford art supplies as a kid affected her. She wanted young people to have more access to art supplies despite financial difficulty. It was Elaine's wishes that we teamed up to make this award possible.
This award is open to all students, grades 5-12, in Hudson County. All mediums are accepted and must be submitted in digital format, emailed to cudacultureinfo@gmail.com. Please use subject line: Art Contest. Applicants may submit up to three (3) of their best works.
Deadline for submission: March 31st. If selected, candidate will be contacted for further steps and receive information on upcoming art show and award ceremony.
Please comment on this post for any inquiries, or email us! Good luck, and keep on creating! 🖌💡💻💪🎨🌟
Please follow and like us: