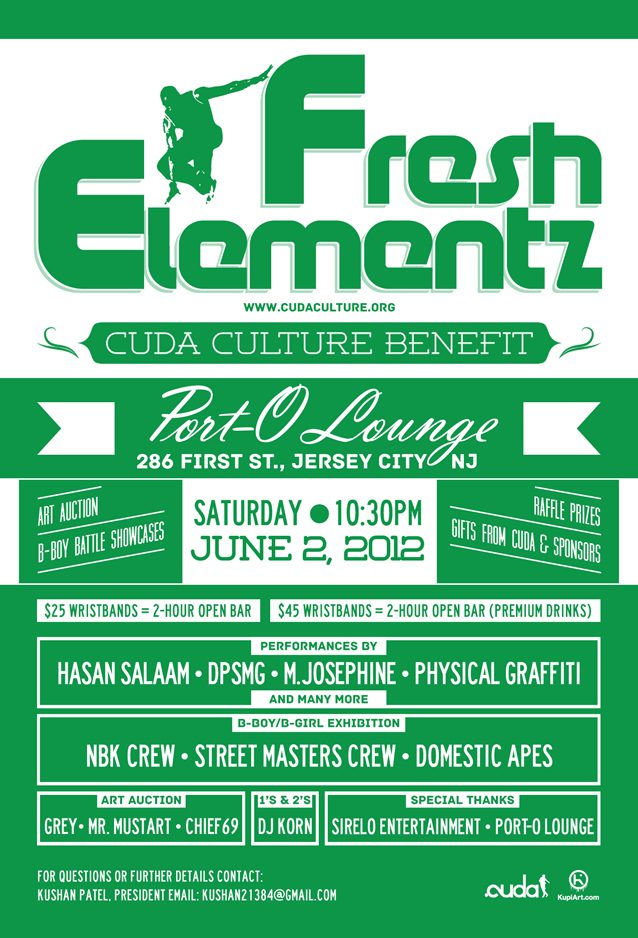 We're pleased to invite you to join us for a special evening of music, art, and dance showcase, in support of CUDA's 2012 Essential ElementZ Summer Youth Program.
Fresh ElementZ: A CUDA Culture Benefit
Location: PORT-O LOUNGE –
286 First Street, Jersey City, NJ 07302
Date: SATURDAY, JUNE 2, 2012
Time: 10:30 p.m. – 3:00 a.m.
No Cover, must be 21+
10:30 p.m. – 12:30 a.m.
$25 Wristbands = 2-hr. Open Bar
$45 Wristbands – 2-hr.Open Bar (Premium Drinks)
TOTAL GOAL TO RAISE: $3,000.00
FEATURING ARTISTS:
**DJ KORN (NBK) on the 1's 'n 2's!!**
B-BOY/B-GIRL Exhibition featuring:
**NBK**
**STREET MASTERS CREW & DOMESTIC APES**
Performances by:
**M. JOSEPHINE**
**HASAN SALAAM**
**PHYSICAL GRAFFITI**
and more…(TBA)
ART AUCTION featuring works by:
**GREY**
**MR.MUSTART**…
*RAFFLE PRIZES*GIFTS from CUDA & SPONSORS*
Attire: Fresh and Fly
____________________________________________________
"2012 ESSENTIAL ELEMENTZ SUMMER PROGRAM"
Giving young people the opportunity to cultivate expressive talent and creativity in the urban arts through:
B-Boying/B-Girling (Instructor: B-Boy Rival, NBK)
& EMCEEING (Instructor: Hasan Salaam)
Student will be able to:
-learn the fundamentals of breakdancing
-understand the value of physical fitness
-learn an introduction to history of Hip Hop Culture
-develop non-verbal communication skills
-learn the fundamentals of emceeing
-practice creative writing
-practice public speaking & performance
-explore the evolution of Hip Hop music
-understand the connection of literacy and self-expression
This will be a 6-week pilot program for breaking and emceeing. At the culminating celebration, students will showcase their works in a public performance at the Annual Creative GROVE Under Siege in Jersey City, by Sirelo Entertainment (FRIDAY, JULY 27TH). All participating students will receive a certificate of participation, gain community service hours (used towards HS graduation), in addition to great friendships and an amazing summer experience to remember!
Special PRIZES will be awarded to students achieving:
-Perfect Attendance
-Most Improved
-Outstanding Achievement
(AGES: 10-17)
**For questions or further details, contact:
CUDA Culture President: Kushan Patel
Email: kushan21384@gmail.com
Tel: 201-779-4906
2012 Essential ElementZ Summer Coordinator: Rossana Villaflor
Email: rossanavillaflor@gmail.com
Tel: 201-936-4314
Thank you ALL for your support!
CUDA would like to give special thanks to: Rival(NBK), NBK Studio, Hasan Salaam, M. Josephine, Grey Fotograff, Paranoia (Street Masters/Domestic Apes), Sirelo Entertainment, Port-O Lounge, Kupiart, Full Time B-boy, & Late For Work,LLC.
286 1st. Street, Jersey City, NJ 07302
Please follow and like us: