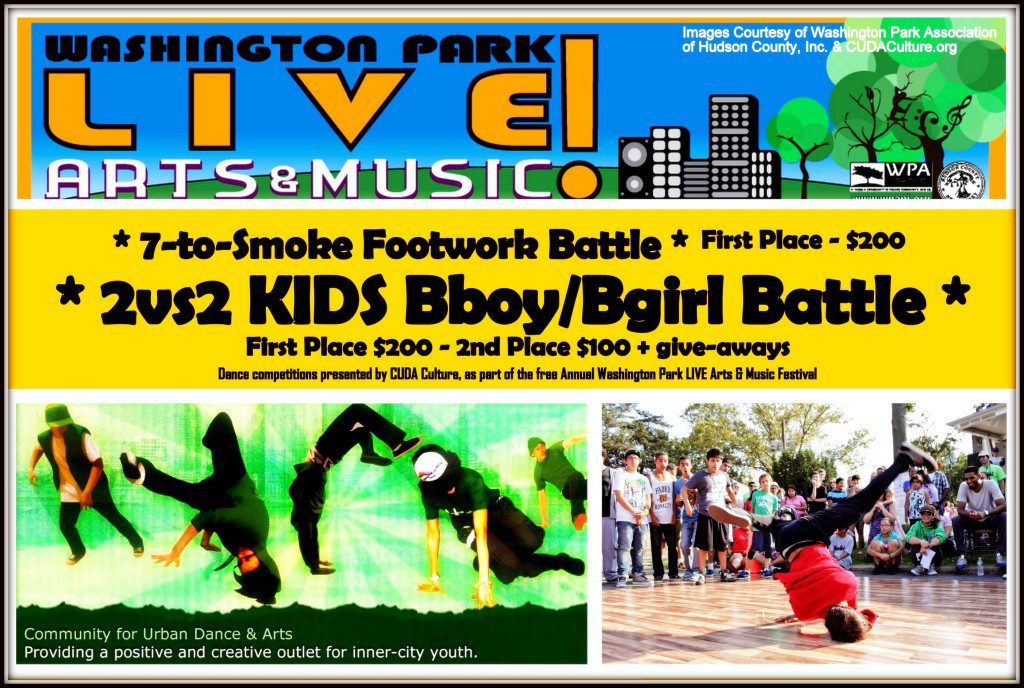 As part of the FREE Annual Washington Park LIVE! Arts & Music Festival, CUDA Culture is proud to present…
"7-to-SMOKE" B-boy/B-Girl FOOTWORK BATTLE and KIDS 2vs2 BATTLE
Date: Saturday, Sept. 21st –
*Sign-up at 10:00 a.m., BATTLES STARTS promptly at 11:30 a.m. and ends at 1:30 p.m.
* 1ST PLACE PRIZE – $200.00 – "7-to-Smoke" Footwork
* 1ST PLACE PRIZE – $200.00 + give-aways – 2vs2 Kids
* 2ND PLACE PRIZE – $100.00 + give-aways – 2vs2 Kids
CUDA Culture would like to thank WPA, volunteers from Nothing But Knowledge, and community members for the support and donations provided to make this portion of the festival possible again this year!
MORE INFO TBA! (stay tuned…)
Check out footage from last year's kids battle here: http://cudaculture.org/cuda-at-arts-and-music-festival-at-the-park/
Jersey Journal News: http://www.nj.com/jjournal-news/index.ssf/2012/09/washington_park_arts_and_music.html
—Organization Info–
CUDA Culture – www.cudaculture.org – The Community for Urban Dance & Art (CUDA) is a New Jersey Based non-profit organization designed for the educational purpose of providing a positive and creative outlet for inner-city youth to practice and showcase diverse art forms founded in the urban culture. Our goal is to stimulate a young person's talents, enhance self-confidence, personal growth, and appreciation for the visual and performing arts.
WPA – Washington Park Association of Hudson County, Inc. (WPA) is an independent, volunteer run, 501(c)(3) nonprofit providing services and benefits to more than 1,000 community residents. Founded by residents of Jersey City and Union City, who were motivated to create positive change in the community surrounding Washington Park. We believe that by engaging residents in activities that improve their neighborhoods, civic pride and care increases, leading to healthier, wealthier, and progressive communities.
www.facebook.com/washingtonparkassociationofhudsoncountyinc
www.wpanj.org
Phone (201) 320-5780 wpahudsoncounty@gmail.com
PRESS RELEASE FOR IMMEDIATE RELEASE
Please follow and like us: